Best display bases for miniatures
Are you a fan of miniatures? Would you like to make a quality leap in all your work? If so, then you'll love this top 4 of the best display bases for miniatures.
With them you will improve the style and setting of all your figures. So keep reading!
What are display bases for miniatures?
It can be said that these are structures similar to a podium or pedestal but in miniature version. In other words, they are ideal for placing things on them (in this case figures or busts) so that they have more height and visibility when it comes to displaying them.
In general, the display bases should be neutral and not too flashy, so as not to detract from your paint job. Its use is designed so that the miniature is the key piece and the protagonist. You can make a terrain or stage on them, so it would be ideal that these bases provide your piece with a good height to make your work visible, a surface large enough to make a terrain if you wish.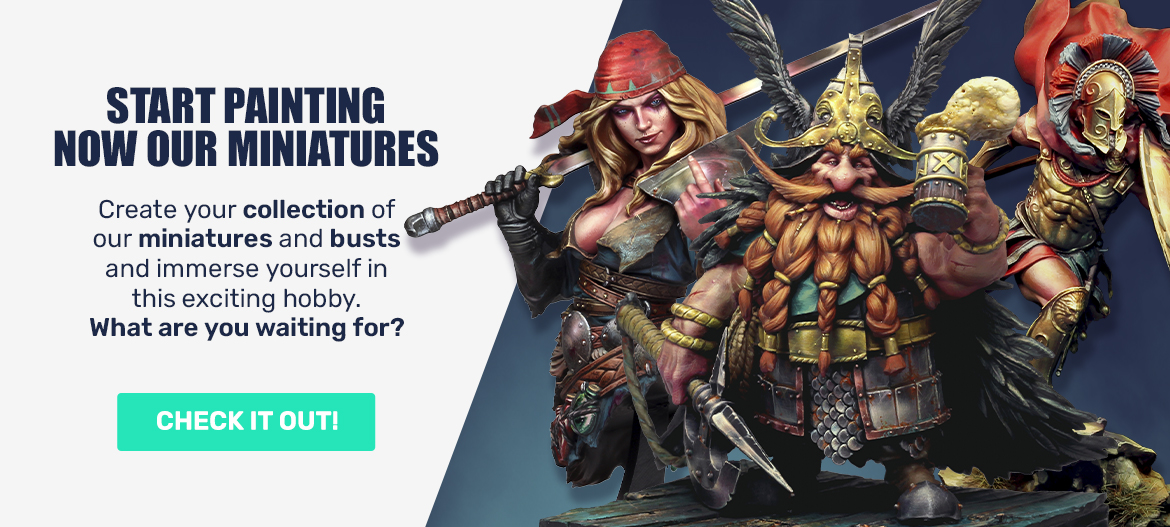 What are display bases for miniatures used for?
As mentioned above, they are used to give miniatures greater height and visibility. Although sometimes we can opt for bases with little height, it depends on our project. The bases that are generally used in modeling are dark or muted colors, so as not to detract from your figure, but this does not mean that they cannot be given a personal touch depending on the theme of the miniature that will be placed on it.
In addition, the bases allow the finished works to be transported from one place to another, without running the risk of damaging them during transport. Our hands can sometimes have dirt or sweat, which can ruin the aesthetic appearance of our miniature if we touch them directly, that's why the display bases for miniatures are the ideal way to be able to manipulate your figures once they are finished or even while you're painting them.
You can see many differences between a model that is not placed on a display stand and one that is. Those that have this complementary element will always attract much more attention from the viewer, which will make many more people notice your work, either in the window of your home or in a miniature contest.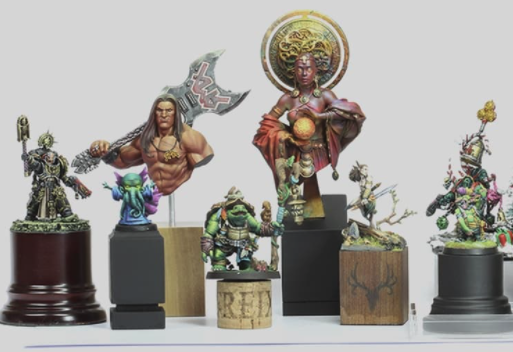 Another thing to keep in mind is the number of hours we spend making our figures look spectacular and attract attention. Many figures are incredibly painted, but… wouldn't you like them to stand out even more? Well, display stands are designed to do just that.
Is a display base necessary when painting miniatures?
The truth is that they are not essential when painting your pieces. Its main function is to help highlight your work when the figure is completely finished and ready to be displayed.
Normally, a support or handle is used to paint miniatures during the painting process . It is a different tool than the display bases that is used for very different purposes.
There are, however, painters who decide to paint their figures directly on a display base, either because they have built a stage and want to work on everything at the same time, or because they are used to this way of working. If you are going to choose to paint your figure on a display base, remember to protect it so that it is not damaged during the painting process.
In what materials are they made?
The materials in which they can be manufactured are very varied. Each manufacturer tends to choose the raw material that best suits the style of design they want to achieve in their bases and their manufacturing processes.
The main materials that are generally used to manufacture display bases are the following:
Wood:

Many types of wood are often used for base manufacturing, such as olive, walnut, beech, pine, etc. There are hundreds of designs, shapes and details like including a pedestal, adding an inclination, etc. The wooden bases are normally stained and protected with a lacquer that makes them more resistant to manipulation. The most characteristic and beautiful thing about wooden bases are the natural grains of the material that can present the most original and striking shapes. But remember that the more conspicuous your base is, the more it will distract from your painted figure.

DM:

DM is a type of wood chipboard that uses material remains such as sawdust, shavings, chips, etc. that are crushed, pressed and compacted with chemical products to form boards that are later worked to give them the desired shape. Normally these bases are covered with plates that embellish the final finish. Most of the black and streak-free bases that we find on the market are made of this material and handling is very comfortable and versatile, with a wide range of shapes and sizes. 

Metal:

Although it is not very common to find miniature bases made of metal, it is not impossible either. This material is very resistant and can be forged into a large number of designs and engravings. The weight of these bases is their most important feature, making it a detail to take into account if you are going to choose one of them.

Plastic or resin:

These are some of the most common materials that can be found on the market, many manufacturers use this resource to make their bases since molds can be used, the mass production process allows them to be fabricated in large quantities. Although it is not as durable over time as the previous two, it is also a good option to choose.

Glass or crystal:

Elegance is a synonym of glass or crystal. Although they are quite fragile materials, they bring a charming touch of elegance to each of the miniatures. However, you should know that it is very rare to find bases for miniatures made with this material on the market, due to its fragility.
As you have seen, these display bases for miniatures can be found in a large number of materials, presentations, sizes and colors. Without a doubt, we know that you will find the ideal one to combine with your pieces sooner than you think.
How can I use them?
We have already talked a little about many topics related to display bases for figures. But how can we use them?
We must tell you that it is easier than you think, since the process only consists of adhering the miniature to the base with an adhesive material or glue.
You must ensure that the material you use does not cause any damage to either the miniature or the finish of the base, as this will significantly affect your work.
If you want to achieve greater security and stability in the union between your figure or bust and the display base you are using, it is very useful to use a pin or rod made of wire or another type of metal that is inserted into the figure and the base at the same time in order to reinforce this union. This option is highly recommended if the piece you are going to paint is large and heavy, and it is a very comfortable way of transferring your figure from a painting support to the display base.
What kind of figures are these bases used for?
Display bases are useful for all types of figures, both busts and figures of any scale, and also to display your work in dioramas and miniature scenes. 
Choosing a good base is a very important part of any miniature painting project and you should spend some time thinking about what you want to convey with your work and what is the most appropriate way to display it.
So, do you need to know which details you should take into account when buying a display base for your miniatures? That is exactly what we will be talking about next.
How to choose a display base for miniatures
In addition to the above, the easiest way to choose the perfect display base for your work is to carefully study all the aspects to take into account. Some of these factors can be:
Figure size
Size is crucial when purchasing the perfect base as you need to make sure that both the miniature and the base are the right size. To get an idea of ​​the size of your bust or miniature, you can proceed to take your measurements and look for a base of adequate measurements for the piece you are going to paint, since exceeding or falling short in this matter can affect the attractiveness of your work.
Miniature colors
A very important factor is the colors with which the miniature has been painted. Because based on these, you will have to choose the color of the base. In general, a neutral color such as black is the most popular option by painters since it will help the viewer focus their attention on your work, however, you can take risks with more daring and striking colors that create a contrast to your paint job.
Weight
The weight of these pieces is not such an important factor to take into account, and will largely depend on the material they are made of. However, you should always make sure that the base is never lighter than the miniature, as this may end up causing the figure to lose its balance at some point.
Base shape
Bases can be cylindrical, square, rectangular and of many other shapes and proportions. Some bases are completely flat at the top, providing a smooth and very stable surface to hold any figure, without taking any risks. They are specially designed to be used with your miniatures individually or in groups or scenes, but you can also use them to enhance your busts.
However, there are bases for miniatures that have a slight slope in the upper area, which will give each of your works a more elegant and daring touch. These bases are specially designed to be used with busts that you will have to attach to the base with a bolt or stem that will likely be made out of metal.
If we take these simple factors into account when choosing any base, we assure you that you will never fail in your choices.
Now that you know all about these pieces, you are probably wondering what the best display bases for miniatures are. Here you will find the answer, with this top that we have created for you.
Do you remember when we mentioned that one of the most elegant materials used to make this type of base was wood? Well, if you are looking for a base made of this material, the Olive wood base is perfect for you.
Each of these bases are handmade and the aesthetic aspect that your figures offer in it is of the highest level.
It is 6.2 centimeters high (maximum height), and has a 5 cm side pedestal.
It can be said that it is medium in size, and could be adapted  to almost all types of busts.
BUY NOW
Made of lacquered MDF (a material made from high-temperature pressed wood), this is a classic display stand that will go well with any type of piece. In addition, it has a small slope in its upper part that better frames the figure and gives it a more aesthetic effect.
Its dimensions are 6.5 cm high (maximum height) with a 5 cm side pedestal. This piece is one of the most versatile on this list, so if you cannot identify an option that combines perfectly with your miniature, surely this is the one.
BUY NOW
Now is the time to talk about the 5X5 display stand, the most adaptable and versatile display stand you will find on the market. If you don't like fancy figure stands or ones with a steep slope, this simple but effective structure is perfect for your needs.
Its dimensions are 3.5 centimeters high, 5 centimeters on the side in its main body and it has a pedestal with a height of 1.7 cm and a side of 6.7 centimeters. It has a very demure design in black, which is perfect to combine with any color scheme of your figures.
BUY NOW
And to finish off this top 4 of the best bases for your miniatures, we have the straight bust base. It is a square display base made of lacquered MDF and has a height of 6.5 centimeters, and a side of 3.5 centimeters.
A peculiar aspect of this piece is that it does not have a support or pedestal section at the bottom, like the rest of the bases on this list, which makes it a unique piece in relation to the rest.
Conclusions: bases for miniatures
As you can see, display bases for miniatures are a very flattering complementary element for our busts and figures.
They not only enhance the appearance of the piece but also allow us to take care of it and not run the risk of damaging the pìece when moving it from one place to another. So, what are you waiting for to combine your miniatures with one of these bases?