Best mini paints
At Bigchild Creatives we know the importance of having the best mini paints to make your miniature painting projects unique and personal creations.
For this reason, today we are pleased to present you the line of acrylics most used by our team of painters at Bigchild Creatives, with which you can paint your figures and miniatures, achieving unbeatable results.
A line of acrylics formulated with high quality pigments, which allows you to mix colors to create amazing different tints and shades of the same color, whether you are an expert or a beginner in the world of miniatures.
Best set of paints and brushes for miniature figures
Pure Pigment Acrylics set
This is a professional set at a single price, containing 12 pure acrylic pigments and a satin finish.
Each pot contains 30ml of highly concentrated acrylic pigment paint in a dropper bottle with a flip-top snap cap and containing a stainless steel stir ball.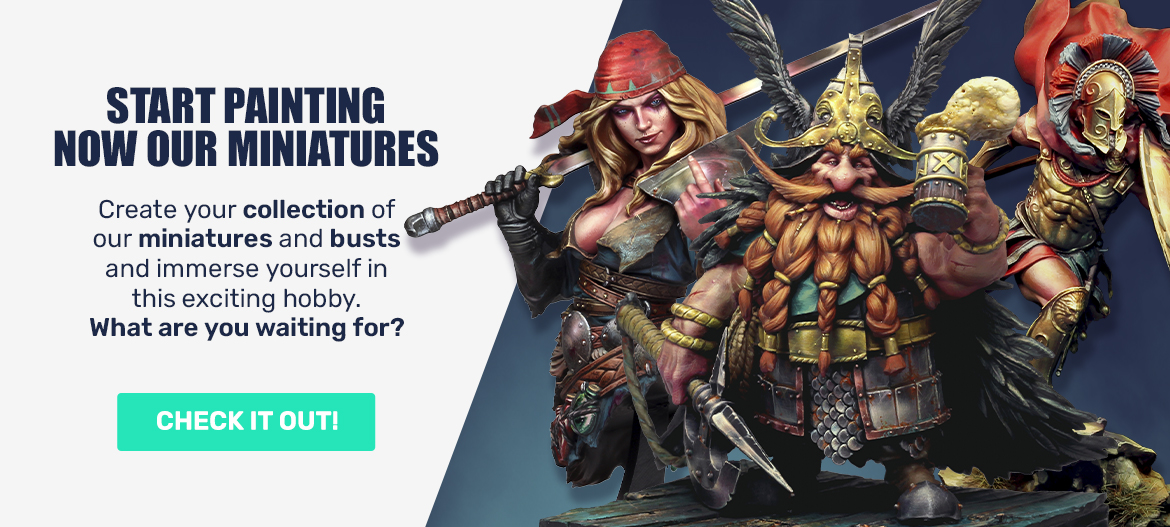 The high content of pigment in the paints in some cases reaches 50% concentration and the finish of the paint once applied is matte, which results in a greater opacity of the paint, in general, with slight differences between colors. Remember that you can always apply new layers to increase the opacity of your colors.
Lastly, mixing colors is a pleasure, due to the great ease with which we can mix tones; both between these paints and between them and colors from other manufacturers. With a little practice you'll get exactly the blends you wanted, and you can adjust the color as much as you like.
Creating skin tones, for example, is surprisingly simple. Our team of painters at Bigchild Creatives suggest some mixes of Red Oxide + White or these same colors plus a bit of Yellow Ocher and Orange, to create some really custom skin tones with minimal effort. You can also use a bit of Magenta, getting new nuances in your skin tones that will surprise you.
Colors can also be adjusted as desired by adding a complementary color, or black/white. Mixing Phtalo Green with Red Oxide, for example, gives you a wonderful range of browns.
Pure pigments acrylics set & essential brushes set
If, in addition to some acrylic miniature paints, you need brushes, we suggest this pack. It is available in our store that consists of a Kimera set and two brushes, Maestro Series 35 No. 0 and Maestro Series 10 No. 2, which are specifically designed for paint miniatures.
These brushes are characterized by their handle shape, a rounded triangular design, which allows painters 100% control over each stroke.
The brushes are designed to absorb less paint so the acrylic doesn't spread too far over the miniature, but right where you want to paint. The shorter bristles provide razor-sharp precision and are also flexible, giving you advantages for certain techniques and applying all kinds of strokes.
The set comes complete with 12 vibrantly colored acrylics plus a satin finish, allowing you to mix them together to create new custom hues and bring your miniatures to life.
Danilo Cartacci set – Never without
When we say the name of Danilo Cartacci, we are referring to one of the most experienced painters in the world of miniatures. His art has crossed borders and he has even published several painting books. These were created to share his knowledge and his passion for these miniature figures.
Danilo is a master of the historical figure. He has been internationally recognized with prizes in the most prestigious competitions throughout his career. In some way, each of his brushstrokes gives the figures a realistic look, thanks to which they seem take life
Kimera has managed to bring together in this set, the pictorial philosophy of this admired miniature painter, and also with the set you will receive a brochure in which the painter himself explains how to make the most of the six colors included in it.
Michal Pisarski Miniature Paint Set – Non Metallic Metal
From the hand of another of the great miniature painting artists, Michal Pisarski, comes a set that includes 6 colored pots and an explanatory brochure developed by the artist, which will provide you with the fundamental concepts to take advantage of the strength of these acrylic paints. , which are specially designed to perform the "non metallic metal" technique, one of the most impressive techniques in miniature painting and in which Michal Pisarski (Lan Studio), is an accomplished master.
With any of these sets you can start creating your own collection of miniatures, you just have to buy any of the resin figures, and give them life through the best acrylics for miniatures that Kimera offers you.
Tips for when painting miniatures
Team
We advise you to always have a brush with a fine point and in good condition on hand to paint the details of your figures, a smaller one for the smaller areas of the model, a larger one to apply bases and washes and a brush with hard bristles to perform the dry brush technique.
Keep in mind that you will need paints that cover the main parts of your chosen miniature well. The Kimera paint sets are perfect for this task.
Preparation of the thumbnail
To have a miniature ready to paint, you must first assemble it. Before this, any excess mold must be cut with pliers and then the burrs are filed to eliminate any remaining mold line.
Once the figure has been cleaned and assembled, it has to be primed with spray, airbrush or brush primer paint. You can use black, gray or white depending on the colors you want to use in your figure. Black is for duller colors and gray and white for brighter colors.
When priming you must make sure that the paint coat evenly covers the entire figure. It may be necessary to apply several very thin coats of primer, letting the paint dry between coats.
Base layers
The base layer is the process of painting the basic colors on your figure. You will later do all the painting work on it. The best way to achieve this is to use thin, even coats of paint to achieve an even finish throughout the miniature and a smooth look.
It is best to dilute the miniature paint with a few drops of water or acrylic thinner; although getting the right consistency takes practice, different types of dilution can give you different results in your brush stroke. Remember that the result of the dilution should be more liquid than paint and thicker than water. A good reference for the right consistency would be the dilution of milk. It always pays to be patient when applying layers; remember, two or three thin layers is better than one thick layer. That is because it allows you to obtain a more even result and more control over the result.
Shading
Light does not have the same effects on miniatures as it does on larger objects. Instead of relying on the way the gaps interact with light to create shadows, you should paint them by drawing with your brush in darker colors than you used to base coat. Being small objects, thumbnails require us to exaggerate the difference between the lightest and darkest areas.
The easiest way to accomplish this is to use "shadow tones," which are made by mixing your base colors with darker colors.
For your miniature's shading, focus on gaps. These can be folds in the fabric, around joints, and areas that have a lot of nooks and crannies. Try to respect the most visible and light-exposed areas, since these should be worked with luminous tones.
You also have other options to get a light contrast on your thumbnail. You can use the wash technique, diluting the dark paint much more than normal and applying it over the entire figure so that most of the pigment stays in the deepest areas.
If you take a look at some of our tutorials on YouTube, you'll see that shadows are rarely just black, and instead almost always have a hint of color. You can always orient yourself on the color wheel if trying to choose the right colors to achieve contrasts,
illumination
Just as shading simulates the areas where light does not reach, lighting simulates the effect of light reflecting off the most light-exposed points of an object.
Lighting is a more delicate process than shading, as lighter colors in more exposed areas will show through more, but it should be fairly easy to tackle if you keep your brush strokes fine.
In this process it is important that the paint has a certain consistency. If you find that the paint is too diluted, you can wipe off some of the excess moisture with paper.
One part of this lighting is light profiling. That is, highlighting the edges of each part of the figure that are exposed to light.
Avoid outlining with the tip of your brush as it is quite difficult to control. Instead, try using the side part of the brush and drag it along the edges of each figure detail.
To save on buying additional paints, you can always mix white or yellow paint with your base coat tones; you can also mix it with colors that contain white or yellow for brighter tones.

Miniature Paints
Are you looking for the best mini paints? Look no further than Big Child Creatives! Our high-quality, vibrant and reliable range of products are perfect for all your miniature painting needs.
On this page you can see many different sets, which offers a stunning array of colors to create bright, eye-catching miniatures. Our paints provide good shading and coverage, allowing you to achieve the perfect base layer for your miniature projects. We also have a selection of pre-thinned mini paints, making it easy to get started with painting miniatures.
Our customers love our mini paint sets because they're so easy to use and require minimal preparation. With our mini paints, you don't need to worry about thinning the paints or getting the perfect consistency. Our paints come ready-to-use and are quick drying, so you can get your project finished in no time!
At Big Child Creatives, we take pride in providing our customers with top-notch mini paints. Whether you're a beginner or an experienced painter, you'll find the best mini paints for your projects right here! Check out our range of mini paint sets today and start creating beautiful miniatures.
Conclusions
When our Bigchild Creatives artists paint miniatures, they do so with respect to every detail, and for that, in addition to technical skills, creativity and artistic abilities, good quality acrylics are necessary.
That is why we recommend Kimera miniature paints, because they are made by adding highly concentrated and high-quality pigment that allows for professional results.
The matte finish and the coverage capacity of these paints make them easy to use for all types of painters.
Finally we encourage you to try these paints. Just start and paint a miniature that you love and don't be afraid to try new things, or make mistakes. And if you need inspiration, do not hesitate to consult our social networks, to find numerous educational material on how to tackle your painting projects.