Best painted miniatures
Figures to paint, painted miniatures or simply "minis", have become one of the favorite hobbies for fans of modeling and crafts in general, especially for lovers of fantasy, science fiction and historical figures.
Therefore, on this occasion, we will tell you which are the 10 best painted miniatures in the opinion of BigChild's team of expert painters, regardless of your level: From beginners to professionals!
What is a miniature or figure to paint?
Before going into the matter, we want to tell you that miniatures are small-size sculptures to paint or figures made of various resistant materials. These can be made of metal, plastic, resin, acrylic, wood, and others.
These painted miniatures have a suitable surface and texture to paint them with different techniques and products. Some miniatures can be a bit easier to paint than others, but it all depends on the model, scale and details they have.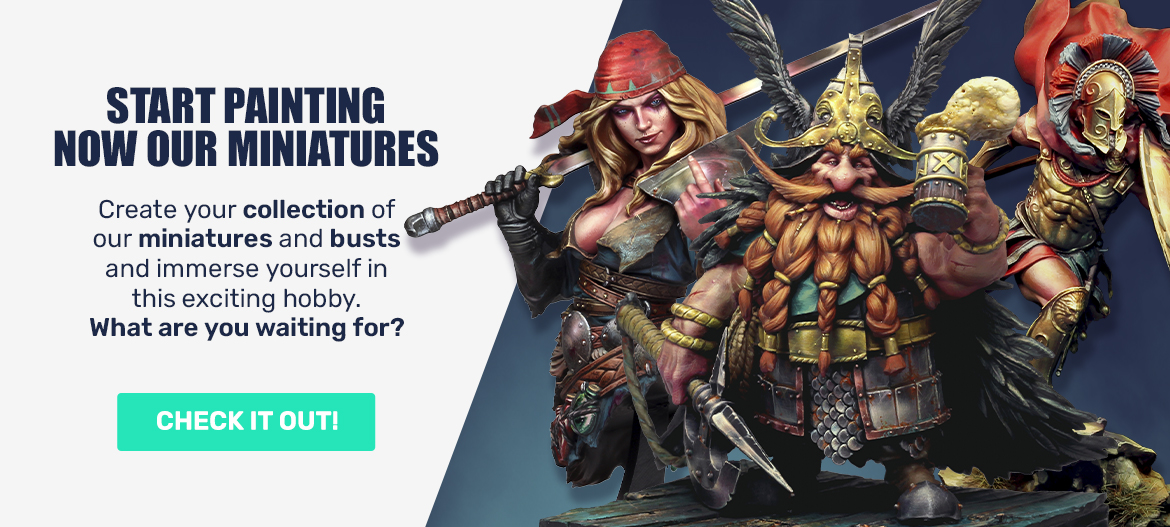 On the other hand, the minis to paint can have different shapes, designs or sizes. It's all a matter of choosing the one that best suits your taste, artistic abilities and the time you have.
What do you need to paint a miniature correctly?
Painting figures as a hobby is an art in which you can let your imagination go wild as an artist; therefore, there are no fixed techniques or limitations of materials to be able to paint a figure or miniature correctly.
However, it is always necessary to follow some tips so that our work looks flawless. Here are some recommendations that we can give you in order to achieve this:
Best painted d&d miniatures – Choose simple pieces if you are a beginner
If you are starting in this beautiful hobby of painting miniatures, we must recommend that you choose a model that allows you to learn more than by its aesthetic appearance, so that in the future you can choose more complex pieces that allow you to advance as a painter and improve your skills.
Use quality pigment paints
This is one of the most important materials for this art. Therefore, you should always choose paints that allow you to achieve the finishes, textures and effects you want and that are comfortable and versatile to use.
A product that can provide you with a wide range of high-quality colors with which to paint your figures is the Kimera pure pigment acrylic set. This set contains colors with a high quality of pigmentation, long-lasting, easy to mix and use. Remember, if you want to create impressive figures, the quality of the paint is essential.
Buy brushes for all kinds of crafts and techniques
You probably already know this, but brushes are one of the most important tools when it comes to figure painting. You must have brushes that allow you to perform different types of techniques and finishes, in order to achieve great control over your painting and a better result.
Let your imagination go wild
The most important thing in this hobby is that you have fun and let the artist in you come out. To do this, you should not pressure yourself on the results obtained and you should focus only on enjoying your painting.
As previously mentioned, there is no mandatory rule to paint good miniatures, each painter is unique in his work and can express himself freely when undertaking his miniature painting projects.
Top 10 best painted miniatures
Now we will give you a list of what we consider the 10 best painted miniatures. With varied themes and different types of surfaces and textures that will allow you to experiment or execute all kinds of strokes with your brush.
ZHU BAJIE THE FIELD MARSHAL
A figure full of details, with quite large surfaces that allow you to apply brushstrokes easily and without much effort. Surely perfect for those who are just starting out in the task of painting miniatures and have not yet defined their skills as an artist. It is also a fantastic figure for the more experienced users, since you can show off the great diversity of materials of the figure (leather, metal, etc.) and unleash your full potential.
Zhu Bajie The Field Marshal, has a 75mm scale and requires assembly work. You will need additional materials such as paints, glue and some putty, which are not included in the product.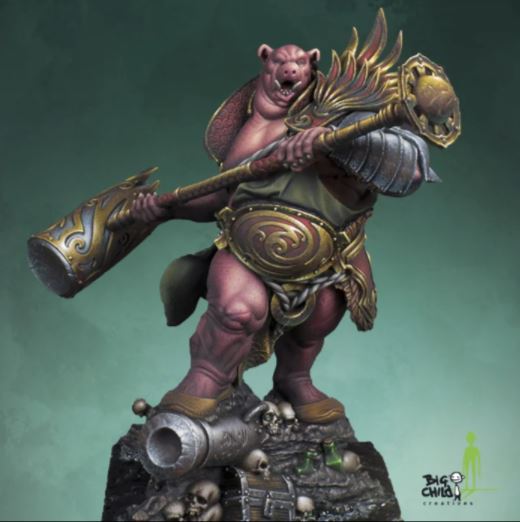 ZHOU KANG THE DRAGON KING
If you are a fan of dragons, this majestic orc is your perfect figure. This magnificent sculpture full of details reminiscent of a dragon is a great choice for both expert painters and beginners alike, presenting a fun challenge for anyone who agrees to bring it to life.
Do you want to get out of your comfort zone and take the risk of trying new styles and color mixes? Then Zhou Kang The Dragon King is the perfect challenge to express yourself as an artist.
SWIFT THE LOOT HOARDER
This goblin is a perfect choice to get started in figure painting. It is a blank canvas with a lot of dynamism and details to enhance. This goblin has many elements that will allow you to practice and improve your skills as a painter, and its size makes it a piece that all types of painters can face.
It has a 75mm scale and you can add a base to it for your character to tell a story. This is not difficult to achieve and you won't need a lot of materials to give personality to Swift The Loot Hoarder.
THE SON OF ONI
This miniature for painting represents a strong character with personality. The sculpture features a heroic and epic pose that will motivate painters to bring it to life through painting. It has mixed surfaces, which will allow you to perform different types of techniques and which are very fun to paint.
The Son of Oni will be the perfect challenge if you want to improve your painting skills in shadows and reflections, due to the large number of volumes of the model itself.
MERLIN 35MM 
Do you like challenges? This miniature represents one without a doubt. Merlin in 35 mm scale, is a sculpture with an epic anatomy and pose and with many details and accessories, in addition, it carries a majestic owl perched on its arm.
Each element present in the Merlin 35MM requires a detail of stroke and execution that not all can achieve perfectly. If you want to improve your hand and precision in miniature painting, this is, without a doubt, the best choice for you.
MORGANA LE FAY BUST & CLASSIC BUST BASE
This fabulous set is one of the best you can buy if you are a beginner in the field of miniature painting. Not only does it include a greatly detailed resin bust, but it also includes a base made of high-quality, lacquered MDF that will allow you to display your paint work in a display case.
Morgana Le Fay Bust represents a woman with very defined facial features and wild beauty, with large areas of skin that you can paint as you wish. In contrast, the bust has a feathered suit that can be painted in a wide variety of colors, making it the perfect figure for those artists who want to refine the way they choose their color scheme and painting techniques.
MORDRED 35 MM 
Are you a fan of swords, armor and medieval fantasy knights? Then Mordred 35 MM is the figure you must choose.
This impressive sculpture represents a mighty warrior with a great sword, a shield almost the size of his body, and incredible armor full of detail. In addition, his long hair and strong, pronounced features make him a perfect figure for those who want to bring a fantasy dark knight to life.
Not to mention his detailed clothing and a long cape that reaches almost to the end of his body. Do you accept the challenge of painting and giving life to Mordred 35 MM?
ALAANA THE BLODY BLADE BUST
This bust is one of our favorites. The figure represents a female character with great strength and defiant expression on her face, and is a perfect choice for painting. It has fine details in its clothing and the way it is modeled makes it a miniature with a lot of character and attractiveness.
Alanna has many interesting and varied elements to paint for all types of painters. With this bust you can practice painting leather, fabrics and metals, which will help you improve your skills as a figure painter.
SCALLY THE HELMSTROLL
Scally is part of the Black Sailors pirate crew, and is one of their most monstrous members. This figure represents a Marine Troll, with a body full of scales that will be very fun to paint because of the multitude of colors that can be used when painting it.
This figure also includes many interesting elements for painters that will add more variety to your painting work. Scally includes a wooden rudder hanging from his back as well as the latest "victim" of his hunts, a shark that couldn't resist Scully's trident´s strength.
Painting it will not be an easy task, as it will require a lot of detail and precision to achieve the realism you need, but what we are sure about is that it will be a lot of fun.
SPARTAN HOPLYTE 2
This character is specially designed for lovers of classic history and its epic warriors. If you are looking for one of the best figure to paint, thiswill fascinate you!
Its dynamic and aggressive stance has great appeal and the quality of the resin in this figure makes it perfect for painters of all levels.
Spartan Hoplyte 2 has large metallic surfaces and wide fabrics that will look spectacular with a multitude of color schemes. Painters can choose to follow the classic colors of these warriors or let their imagination run wild and seek their own color interpretations.
How to paint a miniature like a pro?
Our experts from the Big Child painting team have always referred to this type of art as one of the most dynamic and free around. Why do they do it?
Because miniatures allow you to play with different types of shadows and light effects, countless color schemes, and a large number of technical tools and materials to bring your projects to life.
To undertake your painting projects it is important that you take into account the following tips:
Think the paint
One of the most relevant details pointed out by miniature painting professionals is the importance of knowing how to properly dilute the paint before applying it to the figures.
This is because sometimes the dense consistency of these pigments can unwantedly cover the finer details that give realism to the figures.
Therefore, if you want to have great control over the finish of your miniatures, without covering the small details and giving them a unique appearance, it will be necessary to dilute the paint with the appropriate precision when the density of the paint makes it necessary.
Play with colors
We know that on our website we have shown some alternatives on how you can paint your miniatures through the incredible Boxarts that our team of painters has painted. However, it is not necessary to paint your figures the same, you can play with the colors that you like the most and give your personal touch to each one of them.
But, you have to keep in mind that the colors must contrast in the correct way and that you have to avoid giving bad traces of light or shadows, where it is not suitable.
Tell a story and put your heart and soul into it
An artist will always display a part of himself in each of his works. For this reason, you should try to reflect on each work that you do and put your heart and soul in each miniature that you paint. Your work will be a reflection of yourself and represent a part of your own life.
There is nothing better than using your miniature to tell a story through painting and the best way to do it is by sincerely and fully connecting with all the characters you have to bring to life.
Don't limit yourself
If you are an experienced painter, you will surely know how important it is not to limit your creativity. Because it is the vital energy of an artist.
So if you want to create something new and unprecedented, we invite you to let your imagination go wild and give a new approach to all the characters we have to offer you.
And if you are starting in this hobby, do not forget that the important thing is to enjoy and feel free in your painting work, do not pressure yourself or force yourself to achieve certain results, simply let your imagination run wild and create what you want.
Best painted miniatures – Things you should not do when painting a miniature
One of the worst mistakes you can make when painting miniatures is not having a clear concept of what you want to achieve. This can lead to mistakes and to waste time, effort, money and enthusiasm.
It is important that you spend some time planning your project, looking for references and even trying alternative colors.
Draw a sketch of what you want
A good option for planning your project is to write on a separate sheet of paper how you would like your miniature to look and do a color test, before starting to paint.
This way, you can always have a clear prior idea of ​​what you want to achieve and will not experience frustration when you encounter a creative block.
Don't overload your work area
In addition to the previous points, we would like to mention the importance of always having an orderly and clean work area with a relaxing environment to be able to work comfortably and without discomfort.
It's always helpful to try to have all the tools you need within reach.  But, you should not overload the workspace, because in some cases there may be accidents and your work could be totally damaged.
Finally, we must tell you that painting miniatures is one of the most beautiful hobbies that exist today, it is an artistic and relaxing activity that can give you great satisfaction and that we encourage you to try.
And, with this list of the 10 best painted miniatures, not only will you be able to have a guide to choose the right figures that suit your skills, but you will also be able to enjoy the wide range of figures painted by our artist studio that you can use for inspiration and reference when undertaking your next miniature painting project.